WHO ARE WE
3D Modeling, Simulation and Visualization • Fluid Dynamics and Analysis • Custom Software Tool Development
CENTROID LAB is an independent engineering services and solutions company established in 2015, who solve wide-ranging industry specific problems that involve dynamic simulations, computational fluid dynamics and analysis, 3D modeling and visualization.
We are headquartered in California USA, with offices in France, Japan, UK and India. We have close alliances and partnerships with leading research and industry patrons, such as the Idaho National Laboratory (INL), National Renewable Energy Laboratory (NREL), and Electric Power Research Institute (EPRI).
INDUSTRIES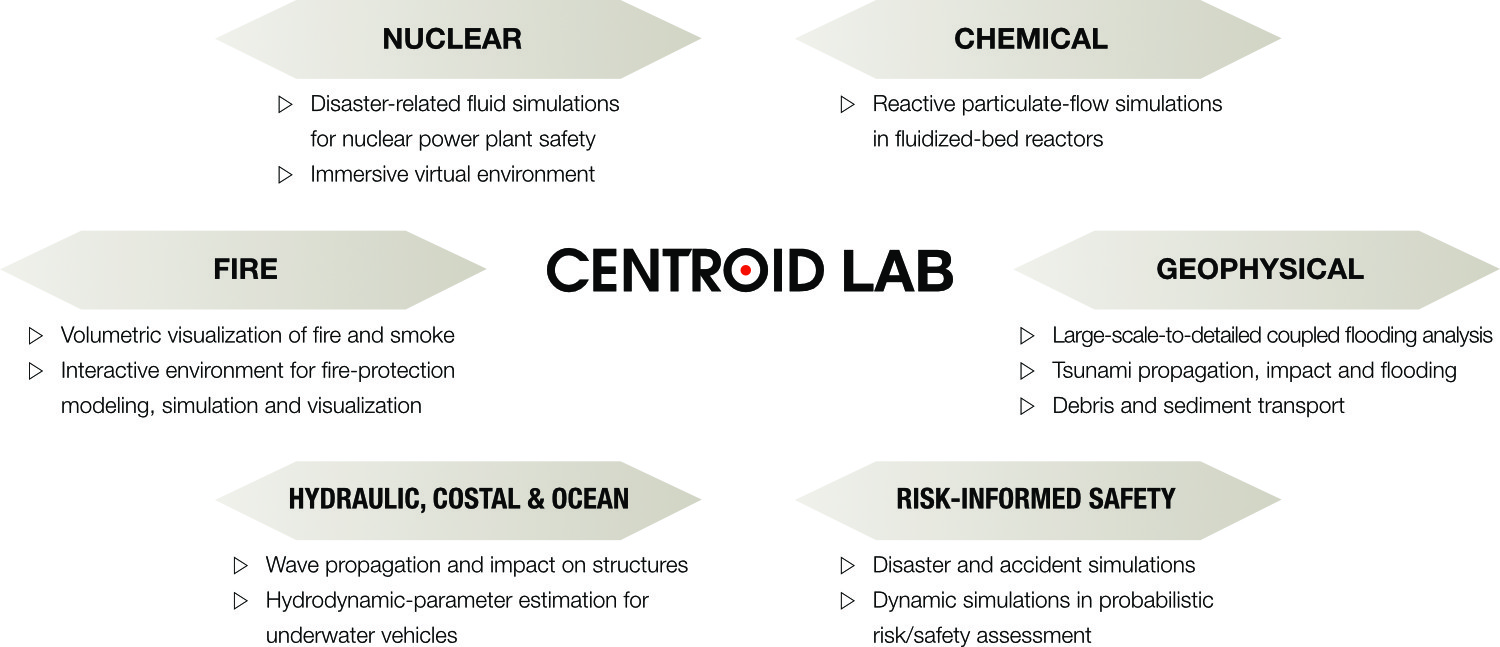 WHAT WE DO
Areas of Expertise
HOW WE DO IT
Verified and Validated Solvers and Methods with easy to use 3D Interfaces
With the Software Supporting Multi processors and GPU simulations and visualizations can be realized quickly on a local network or on the Cloud.
Our scientists and engineers have decades of experience in solving computational problems and are able to implement those techniques into our solutions.
By spending time on research by our scientists and engineers and by testing out a variety of processes we are able to assimilate key knowledge to incorporate in our solutions.
WHY CHOOSE CENTROID LAB
Complete Solutions for Physical Simulation and Risk Analysis Problems in Engineering.
Our team of highly qualified consultants and engineers also stand ready to provide engineering services, consultancy and technical support for your project specific needs involving:
• 3D Modeling, Simulation and Visualization,
• Fluid Simulation and Analysis,
• Custom Software Tool Development.
We work in close partnership with Several Universities like North Carolina State University,  University of Toulon (France), George Washington University, Idaho State University.
We work in collaboration with major national laboratories in the US including Idaho National Laboratory for providing solutions and have established relationships with National Renewable Energy Laboratory.
We have worked on projects with regulatory agenies including Nuclear Regulatory Commission.
We have several advanced state-of-the-art technologies which help design before build.
We use Probabilistic Risk Analysis Techniques to develop solutions in a risk-informed manner.
Accuracy
Our simulation models offer
More Precision and higher accuracy in risk estimation
An order of magnitude less uncertainty.
Neutrino Particle Fluid Solver
We leverage our in-house state-of-the-art Solvers for simulating fluid flows and solid mechanics.

▷ Highly performing for flows with strong dynamics, complex geometries and highly evolving interfaces
▷ Meshless approach avoiding the necessity of mesh generation
▷ Coupling with rigid-body solvers to simulate fluid-solid interactions
Groundbreaking Visualizations
▷ Real-time visualization of geometries, meshes and particles
▷ Camera system, lighting and shading
Interactive 3D Modeling & GUI
▷ Hierarchical node-based system
▷ Import of geometries from CAD/CAM/CAE packages
▷ Manipulation of volumetric data
Verification & Validation
With an exhaustive suite of verification and validation methods we are able to re-validate and verify the runs to improve the confidence of the results.
Deployed On Site
Centroid LAB will extend full support for their solutions to be deployed on-site with Q/A.