Integrated Modeling of High Wind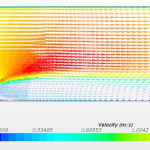 INTEGRATED MODELING OF HIGH WIND
Using Neutrino-SPH this project entited the modeling and simulation effects of modeling high winds using Smoothed Particle Hydrodynamics Methods.
It is generally recognized that high winds pose a significant externally induced hazard to nuclear power plant (NPP) sites. In general, the high wind hazard occurs in three distinct forms: (1) tornados, (2) tropical storms (i.e. hurricanes / typhoons), and (3) straight-line winds (e.g. from thunderstorms and extratropical cyclones).
This project investigates the use of SPH based modeling techniques for simulating high wind scenarios in a probablistic risk analysis perspective.